By Air
Jollygrant Airport in Dehradun, 124 km away.
By Rail
The nearest railhead is 98 km away at Dehradun, which is well connected to all major cities.Taxies and buses are easily available outside the Railway station.
By Road
Chakrata to Delhi (via Dehradun) 320kms
Chakrata to Delhi (via Saharanpur) 290kms
Chakrata to Delhi (via Ponta sahib) 330kms
Chakrata to Dehradun (via Vikasnagar) 91kms
CHAKRATA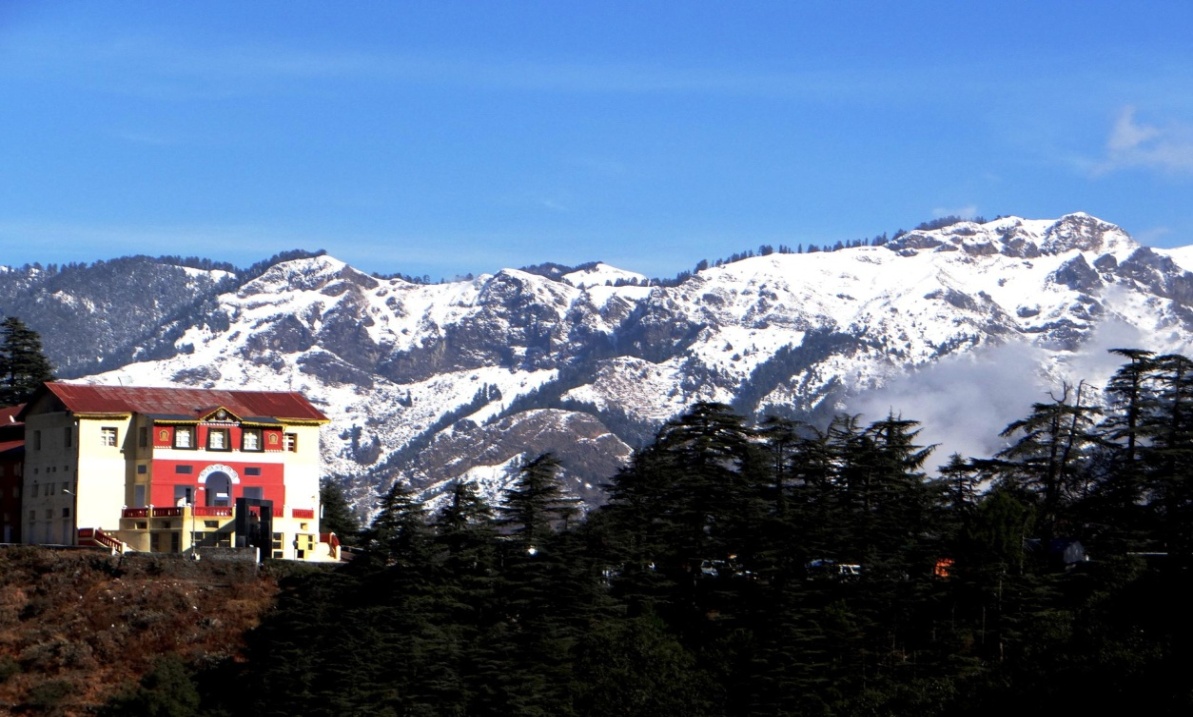 92 kms from Dehradun and 73 kms from Mussoorie at 2118 metres rests Chakrata. It once a cantonment town in British India. One look at Chakrata and it becomes clear that this place is blessed to be the eternal home of natural beauty. Rhododendrons and oaks are best suited for long walks. Alongside these forests, picturesque villages of Jaunsari tribe compliments and in the overpowering Kharamba peak (3084 mts.) Chakrata has its share of Alps too. On its northern slopes is situated Mundali (2776 mts.) where skiing is possible during November to April.
MUNDALI
35 kms from Kathyan, onwards Tiuni, unfolds Mundali. After trekking up the last 5 kms. Ski slopes of Mundali are everything a trekker or an enthusiast can wish for. Skiing in Mundali is an experience only to be felt. Mundali is easily accessible from Deoban (23 kms) by a jeepable road.
TIGER FALL
Tiger fall is 19 kms from Chakrata via a motorable road. 5 kms from Chakrata by foot, it is a beautiful water fall, falling from a height of 50 mts. converging into a small pond which creates an enchanting effect in the scenic surroundings.. It is in the north east of Chakrata and is at a height of 1395mts above sea level. Roaring, gushing water, thickly forest and a beautiful view makes it an ideal place for enchanting outing.
Kanasar
At a distance of 26 kms situated near Chakrata and 105 kms from Dehradun on Chakrata-Tiuni motorable road, surrounded by high peaks and dense rain forests the place is ideal for tourists. A forest Rest House in the picturesque surroundings is available for accommodation.
Hanol, Chakrata
Located at an elevation of 1429 mts. and 186 kms from Dehradun. Hanol is a small village about 15kms ahead of Tiuni, located on the bank of Tons river. It has the 9th century stone temple dedicated to Lord Shiva, known here as Mahashu Devta.
In the Mahabharat era, King Duryodhan entered the area after travelling through Kashmir and Kullu. He liked the area so much that he wanted to settle down here. So he prayed to Mahasu Devta at Hanol for a piece of land. The Deity accepted his pleas and made him the king of the area. He made Jakholi his capital village and a temple in the village has his idol and is dedicated to him. The king is said to still roam around the area of Har-Ki-Dun and his spirit sometimes enters a person who is then known as Maali. All disputes in the area if not sorted out by the local village headman, are referred to the Maali. In more recent history, King Akbar used to frequent the Hanol temple. From May 26, 2004 the temple reversed its age-old custom of not allowing women to worship inside and sacrificing animals. The last sacrifice was held on 25th May 2004.It is believed that the deity appeared in the dream of a devout and ordered him to allow entry of women and stop sacrifices inside the temple after May 25.
Pavasi Temple
Pavasi Devta is the second brother whose temple is about 2kms from Hanol. The road from Mahasu temple goes one kilometer downwards towards Tons River. After crossing the suspension bridge over it, we enter the Uttarkashi District and the small village is called Thadiyar. Right after the bridge is the Forest Rest House, which is believed to be haunted and then the footpath goes up the hill for another kilometer to reach the Pavasi Devta temple.
MOIGAD FALL
69 kms from Dehradun towards Yamunotri, is the serene and tranquil Moigad Fall. located on the main Delhi-Yamunotri road via Dehradun - Vibas Nagar. On the way to Yamunotri. One can bath at the foot of the fall, which is a refreshing experience for all.
DEOBAN
Deoban is another picturesque spot in the Chakrata It is 16 kms, away from Chakrata. The area is surrounded by dense forests of deodar and has amazing terrain that enhance the charm of this place. The surrounding forests are home to rich biodiversity of birds such as White Collared Blackbirds and Himalayan woodpeckers.
LAKHAMANDAL
Lakhmandal is situated on the bank of Yamuna at a distance of 35 kms. From Chakrata and 128 kms. from Dehra Dun. It is an ancient Hindu temple. The temple is dedicated to lord Shiva. This temple is popular among the Shakti Cult, who believes that a visit to this temple shrine will end their misfortunes. Lakhamandal gets its name from the two words: lakha (Lakh) meaning "many" and mandals meaning "temples" or "lingam". Plenty of artistic works were found in the excavations by the Archaeological Survey of India.